New cut on the A-1702 road.
This time in the section between kilometer points 31 and 32 (located after the intersection with the access road to Pitarque coming from Ejulve, and Villarluengo) scheduled from February 12 to February 25, 2022 (according to works planning
and if the weather conditions allow it).
Via Molinos-Castellote-Bordón-Olocau del Rey-Mirambel-Cantavieja-Cañada de Benatanduz-Villarluengo.
Via Aliaga-Camarillas-Jorcas-Allepuz-Villarroya de los Pinares-Fortanete-Cañada de Benatanduz-Villarluengo.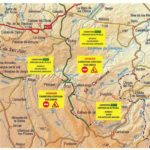 The monitoring of the situation is reflected on the page.
Sorry for the inconvenience.
They are working to improve.